Latest Online Casino News

While most of you are used to breaking out your mittens and making snowmen in your front yard during the winter holidays, Mr. Sloto would like to do thing a little differently this year and help you keep warm during the first 15 days of December!
Deposit as little as $30 and cozy up by the fire of wins with a 1st 150% Bonus, a 2nd 200% Match and wrap up in a blanket of cash with a $100 Free Winter Chip!
Plunging temperatures and long nights are the perfect time to keep warm with Mr. Sloto's Winter Pack of Bonuses and  $100 Free just in time to celebrate Christmas!
150% 1st Winter Bonus
Redeem Code: WINTERBONUS1 
200% 2nd Winter Bonus
Redeem Code: WINTERBONUS2
$100 Winter Free Chip!
Redeem Code: FREE100WINTER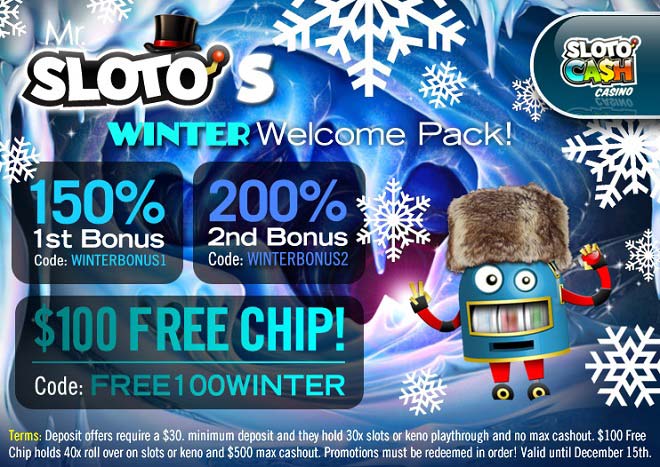 Sloto'Cash celebrates a decade of existence!
This year Sloto'Cash completes a full decade of operating at the highest level. Our brand was developed with the ambitious goal of becoming a leader in the online casino industry. In 2007 it was launched through the emerging platform of Rival software. It was then a new casino software less than a year old and Sloto'Cash made history by becoming the number 1 Rival-powered casino of its time, able to compete against all the older and bigger casino software companies.
Later in 2011, the Sloto'Cash team decided to go for bigger and better things and switched to RTG's casino software. While making the switch, Sloto'Cash hired Stephen Vaughn, a renowned online casino manager with many years of experience. His expertise, care and dedication have only added to the value of our brand.
Over the last 3 years, Sloto'Cash has grown significantly while maintaining its reputation as a professional, friendly and fair online casino. With the release of SlotoMagazine, SlotoShop, SlotoWorld and other original initiatives, our brand has become a contender for the title of being the top RTG casino in the world.
We want to thank all of you, our customers, for keeping the Sloto'Cash dream alive. Thanks to you we continue to manage a reputable operation that believes in responsible gaming for the adult community. We promise you that we will keep our high standards in the future and provide you with a safe and reliable site for your online casino bets.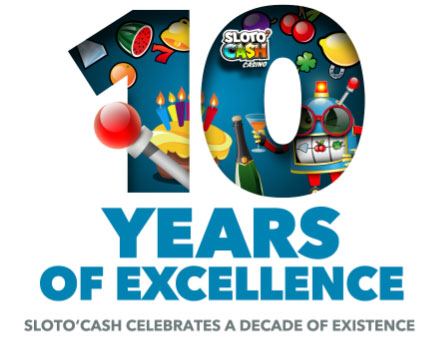 September is a month for renewing your energy and wind down from the hot summer months with some sizzling wins. Don't let the fact that summer is almost gone dishearten you – this brand new month gives you the chance for a fresh start with invigorating wins!
Enjoy the first 15 days of September alongside a 150% Match, continue with a 200% Bonus and make your winning times even more refreshing with a $100 FREE CHIP!
Simply deposit as little as $30 and you'll have access to a September full of winning times!
150% 1st September Bonus
Redeem Code: SLOTSFEVER1
200% 2nd September Bonus
Redeem Code: SLOTSFEVER2
$100 Free Chip!
Redeem Code: FREE100FEVER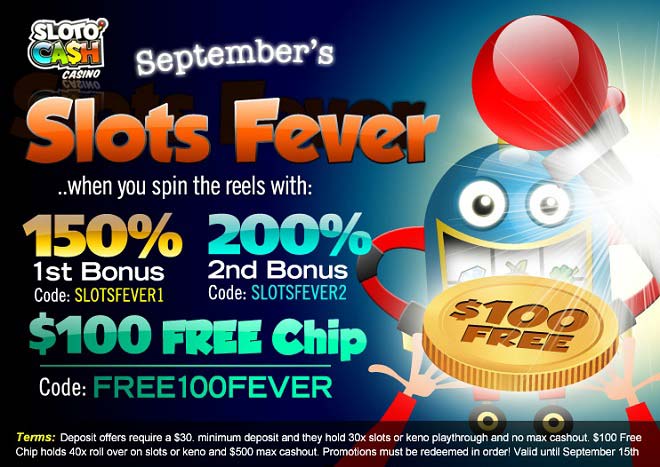 Subcategories