Wallet of Satoshi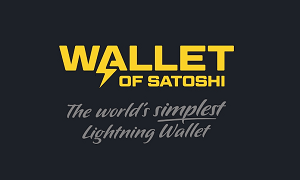 Wallet of Satoshi is an intuitive, self-custodial electronic wallet specifically created for the Bitcoin Lightning Network.
The Lightning Network is a recent addition to the main Bitcoin network. It speeds up the Bitcoin transactions while reducing the associated costs, bringing them close to nothing.  The ease of the Lightning Network can now be enjoyed when you have a crypto wallet that supports this new technology. 
With the Wallet of Satoshi, you can use both the Bitcoin Lightning Network.and the standard Bitcoin Network. This wallet is very practical as it can immediately recognize which network you will use to send your funds. When you scan a QR code or enter the Bitcoin destination link, the Wallet of Satoshi will automatically know the type of payment to be made. 
We encourage users to use the Bitcoin Lightning Network. when making deposits to Sloto'Cash. With this deposit method, you can now fund your player account within seconds!
Get your own Wallet of Satoshi by downloading the app via your iOS and Android app store. With a very simple layout, this is one of the easiest crypto wallets to operate today. With clear instructions to follow on screen, you can smoothly send and receive bitcoins through the Bitcoin Lightning Network!