Sloto Cash Blog
Details

Category: Exclusive Bonus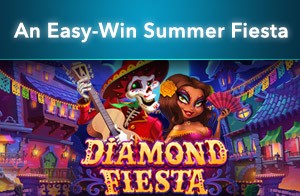 Summer is all about having fun and what could be better than spending the season in an Easy-Win Fiesta?
Get ready to hit some blazing wins when you deposit as low as $25 to join and spin the Diamond Fiesta with up to 100 Spins with a small 10x roll over requirement!
This is a 50-line slot with several impressive features that will keep you rewardingly busy!
Wild symbol – Señor Skeleton substitutes for all symbols except scatters and appears on reels 2, 3, 4 and 5.
Scatter – Get 3 scatter Skulls anywhere on the reels to trigger the Free Games feature below.
Free Games Feature – Get 6 Free Games with extra Diamonds, Señor Skeletons and Skulls (scatters) added to the reels. Extra Free Games are added when 3 or more Skulls appear on a spin!
Jackpot Diamond Feature – Trigger it by landing 6 Diamond symbols anywhere in a spin. You receive 3 re-spins will all Diamonds held in place. New Diamonds appearing are held for subsequent re-spins. Get a Diamond on the four corners of the reels to trigger the feature below.
Expending Reels Feature – See the 5x3 pokie reel expand up to 8 reels with 4 rows each!
Mini, Minor, Major and Grand Jackpots – These appear during the Jackpot Diamond Feature. After the feature is over, see each held diamond explode with a coin prize. The mini and minor jackpot can be won in any grid, while the major and grand jackpots appear only in the 8x4 grid
The summer fiesta doesn't get better than this and everyone's invited!
| Deposit | Get |
| --- | --- |
| $25 | 15 Spins on Top! |
| $50 | 25 Spins on Top! |
| $100 | 50 Spins on Top! |
| $200 | 75 Spins on Top! |
| $300 | 100 Spins on Top! |

Redeem Code: SUMMERFIESTA

Offer holds a reduced roll over of 10x on spins winnings ONLY. All deposit bonuses hold no max cashout.
Details

Category: Sloto Magazine
A quick view of Viking Mythology
As featured on Sloto Magazine
According to Nordic mythology, in the beginning there was a big dark emptiness and from this abyss emerged two realms of existence, one full of fire and another frozen and cold. These two realms clashed and the heat of the first melted parts of the second. From the water drops emerged life and the first was Ymir, a giant who was eventually killed by Odin and his brothers. The Earth was created from his remains:
The blood became the oceans, rivers, and lakes.
The flesh became the land.
The bones became the mountains.
The teeth were made into rocks.
The hair became the grass and trees.
The eyelashes became Midgard (a.k.a. Earth).

Sounds like a magical world, right? Norse mythology comes from several sources such as the Poetic Edda and the Prose Edda, written in traditional Old Norse poetry. From these texts we discover a rich world of powerful gods and magical beings like elves and dwarfs.
One of the most famous gods is Thor, a human-protecting thunder-god. Then there is Odin, a god associated with wisdom, healing, sorcery, poetry and the runic alphabet. His wife, Frigg, was a paragon of beauty, love and fertility. There is also the mischievous Loki, a god that could shape-shift and had an ambivalent relationship with other gods, sometimes as friend and at other times as foe.
Many of the gods are said to live in Asgard, the home to the Aesir tribe of gods.
There are countless adventures between people and gods in the rich literature of Nordic mythology, which continues to inspire people around the world even today.

Travel back into Viking times and play our new game Asgard Deluxe!
Play it with a 177% Match + 77 Spins on top of your $50+ deposit
Redeem Code: PANTHEON
30x roll over + 5x on Asgard Deluxe spins winnings.
Details

Category: Exclusive Bonus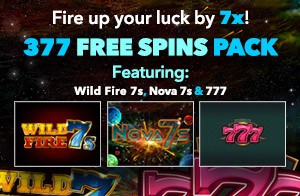 It is no coincidence that success is a 7-letter word. When you can multiply your payouts by 7x, fortunes are made overnight! This month you will see your luck grow with our 377 Free Spins Pack, while you play our games with abundant number 7 symbols!
See an avalanche of luck flow through your screen! Remember… seven is the world's luckiest number and success will be on your side!
777: This is inspired by the Vegas-style Bars and Sevens pokie but offers much more. Including a progressive jackpot, a feature to hold up to two reels with your desired symbol and a wild symbol that increases wins up to 9 times!
Nova 7s: Astronomy and science aficionados will absolutely love this slot. This is a very high variance pokie, so playing it while it's hot can bring enormous profits. The main features of this slot are closely linked to the number 7 and the destiny of a sun.
Wild Fire 7s: Is here to knock boredom out of your life! Our latest pokie is a unique 3-reel slot with a twist: there is a mini fourth reel that brings regular gifts of fortune. It has 5 pay-lines intersecting the 3 main reels. Sharp and fiery symbols flare up on the reels as you play.
1st Bonus:
100% Match + 77 Spins on 777
Code: LUCKBY7-1

2nd Bonus
150% Match + 100 Spins on Nova 7's
Code: LUCKBY7-2

Get after
200 Free Spins on Wild Fire 7
Code: LUCKBY7-3

Coupons must be redeemed in order! 
Deposit bonuses require a $25+ deposit and they hold 30x roll over + 5x on spins winnings. Free spins coupon holds 40x roll over to win up to $500 EXTRA! Offers valid until August 15th.
Subcategories