Mobile News Blog
Details

Category: Mobile News
Remember that time when mobile phone manufacturers were trying to make them smaller and smaller? Well, since smartphones came into the market in the 2010's this pattern has evidently changed: mobile phones back then had screens as small as 3.5 inches, while nowadays you can't find a smartphone that has a screen smaller than 5.5 inches. If we have the knowledge to make them smaller, why do we have the impression they're getting bigger with each new release?
Camera: Today smartphones can film amazing videos that can be used for professional productions thanks to their high resolution cameras - which need bigger and more powerful sensors.


Heat: Our smartphones today have processors that create a lot of heat when they work, so manufacturers need bigger devices to help get rid of the heat in the phone faster.


High Resolution Screens: There is a huge part of the market that enjoys playing video games, experiencing virtual reality and watching tv series and movies in their smartphone. That's why bigger screens with better resolution are part of the appeal.


Battery: In order to power the camera, the high-res screens and all its many features, smartphones need bigger batteries to support its functions without it dying off too soon.
Let's be honest. In today's market if manufacturers thought small phones would sell well, they'd make more of them, and they are actually getting thinner even though they're growing in diameter due to the high demand for entertainment and the many features found in these gadgets.
Ready to Play?
Collect our Monthly Blog Bonus Worth a:
200% Match + 77 Spins on top!
Redeem Monthly Code: 200SLOTOLIFE
$40 min. deposit and 30x roll over + 10x on spins winnings. Game: 777
Details

Category: Mobile News
Smartphones are gadgets that certainly make our day to day life easier, and you will find many varieties and designs in the market that will suit different user needs and preferences, and price is something that most users are paying attention to. If you need a simple smartphone that gets you around without all the fancy features, take a look at these models released earlier this year:
Moto G Power ($250): This Motorola model's best feature is its battery life, which can last two or three days on a single charge. Also, its 6.4-inch Full HD display is easy on the eyes and its trio of camera lenses allow for a wide variety of different types of high quality photos.


Google Pixel 4a ($350): This new model has more RAM and memory, a nicer screen display and it's faster than its predecessor, the Pixel 3a. It has a one storage variety of 128GB and its 5.8-inch model that's easy to hold and use in one hand. Also, one of its best features is its 12MP camera that takes amazing photos.


Samsung Galaxy A71 ($375): This model is at the higher-end of Samsung's more affordable Galaxy phones. It features a 64MP primary camera, delivers a gorgeous 6.7-inch AMOLED display and has a long-lasting battery.


Nokia 5.3 ($200): The Nokia 5.3 keeps their tradition of high quality Android smartphones. It features a Snapdragon 665 processor and 4GB of RAM that allows for a reliable performance, a battery strong enough to last up to two days per charge and a total of four cameras for better pictures.
Smartphones, cheap or not, are definitely a tool that helps you in more ways than we could have ever imagined. Let's see what the future holds for these cool gadgets.
Ready to Play?
Collect our Monthly Blog Bonus Worth a:
200% Match + 77 Spins on top!
Redeem Monthly Code: 200SLOTOLIFE
$40 min. deposit and 30x roll over + 10x on spins winnings. Game: 777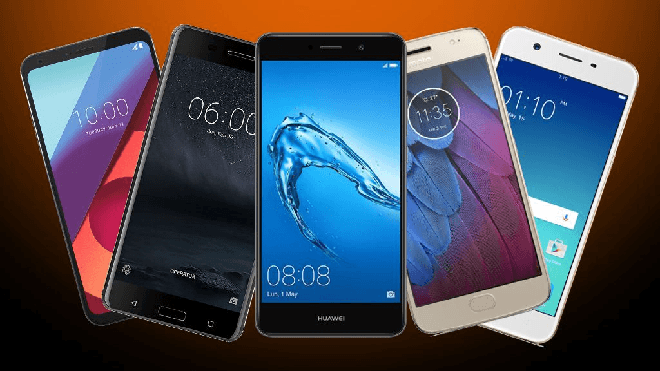 Details

Category: Mobile News
It was just a couple of years ago since 5G networks began to go live but research for 6G is quickly pacing up and Samsung is a perfect example of it. The Korean company is preparing to launch 6G two years ahead of the predicted 2030 timeframe, and would offer 50 times higher peak data rates than 5G. Plus,it promises to reduce air latency from 5G's under 1 millisecond to under 100 microseconds.
Developers state that 6G technology will be needed to enable a truly immersive extended reality, allowing more powerful XR headsets to be released. 6G is also expected to allow holographic displays on future smartphone models, enabling people, objects, and places to be fully replicated digitally on it. It is also expected for AI to take a more significant role on smartphones with the use of 6G networks.
In short, with the coming of 6G networks we may be able to enjoy more powerful VR and XR systems, intelligent robotics at our fingertips, interconnected cities and much more. 6G will be able to deliver a speed of 1 terabyte per second - compared to 5G top of 10 Gigabytes per second!
It is possible to have international standardization of 6G to begin in 2021, with Samsung's plans for the earliest commercialization to happen as early as 2028. With many of us still getting accustomed to 5G and its features, we may feel 6G and its promise for an even greater technological capability already upon us.
Ready to Play?
Collect our Monthly Blog Bonus Worth a:
200% Match + 77 Spins on top!
Redeem Monthly Code: 200SLOTOLIFE
$40 min. deposit and 30x roll over + 10x on spins winnings. Game: 777