Mobile News Blog
Smartphones are constantly changing and improving, with modern features regularly being added by developers and new models coming out every month, smartphones have become an essential gadget of today's lifestyle. We may not think about it nowadays, but there actually was a time where mobile phones didn't exist, and humans had to look for other alternatives to communicate themselves.  Trippy or what?
For example, in the 1990's only 1% of the world owned a mobile phone, just after digital cellular networks started to appear. Fast forward to 2020 and the number of active mobile devices lie somewhere around the 7.19 billion mark - which means there are nearly as many mobile phones as people on the planet!
The average person looks at their phone around 221 times a day and spends an average time of 3 hours per day looking at its screen! Whoa!  Checking emails, reading the news and browsing through social media in bed or watching videos are just some of the common activities that can be done on the phone - which has become part of an essential trifecta of belongings, alongside our keys and wallet.
Today's smartphones have more computing power than NASA had back in 1969, when it first put man on the moon. This about that fact for a second...These computers used to cost around $3.5 million each and were the size of a car! Today, however, even a simple USB stick or WiFi router are more powerful than computers at the time of the first man lead mission to the Moon, and a regular iPhone could perform instructions 120,000,000 times faster!
Ever wondered where smartphones will take us in, say, 10 years?


As soon as 2016 kicks in you get uninterrupted chances of winning – even while playing from your mobile! This January it's your turn to welcome everyone's favorite video poker game to our mobile selection and play Double Double Bonus Poker with an extra 100% Match!
Play Double Double Bonus Poker for increased chances of winning for all Four of a Kind hands and big payouts on Four of a Kind Aces. Enjoy the extra bonus payoff that you get with four aces, 2s, 3s, or 4s joined by a kicker or fifth card that is in the same hand as the four-of-a-kind!
Deposit as little as $35 and enjoy a 100% Match up to $500 when you play our new mobile game addition Double Double Bonus Poker!
Redeem Code: 100DOUBLEFUN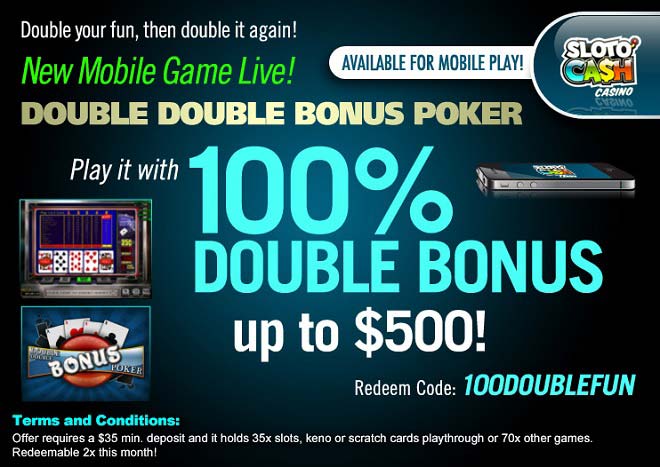 Embrace the start of summer by taking your fun with you, wherever the June sunny days may take you! Play from your favorite iOS, Android or Tablet device and collect a bright and cheery 200% Mobile Weekly Bonus when you deposit as little as $30!
Summer takes us to unexpected places and adventures. All of the sudden you might feel the urge to get away from it all and go camping, hop on board your car or boat and take a captivating trip, or simply go to the beach and sink your feet into the warm sand!
Wherever this summer may take you - even if it's just to your couch - we want you to celebrate it by playing your favorite games like Aladdin's Wishes, Builder Beaver, Caesar's Empire, Cleopatra's Gold and more from your mobile, and add a 200% Weekly Bonus to the fun summer times!
Redeem Code: MOBILESUMMER